My blankie!
Posted on 2011.10.06 at 21:23
Location:
home
Mood:
complacent
Music: "Party Rock Anthem" ~ LMFAO
So, despite the need to really get some Christmas presents finished, I haven't had time for much stitching lately. Finally, though, on Saturday I helped to finish a project that has been near and dear to my heart.
I still had a bunch of James' jeans left, mainly ones that had several holes that I was saving for scrap material to patch newer jeans that developed holes. Yeah, he wore his jeans until he couldn't wear them anymore. Well, I couldn't bear to toss them, but I didn't have any other room for them. Then my sister showed me this adorable little quilt that her grandmother-in-law, Nancy, had made for my nephew with old jeans that his parents had worn. I thought it was an adorable idea. So I sent her James' jeans, a couple of old pairs of my own, and some backing fabric. This is the result: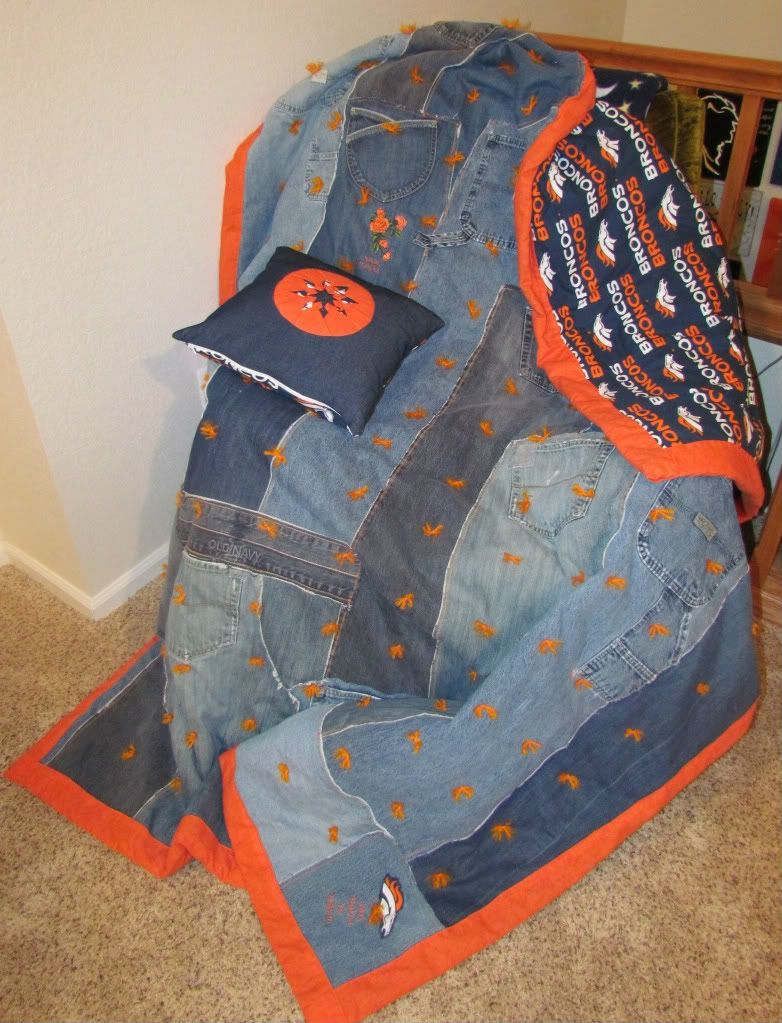 Isn't it wonderful?! Something of James' to keep me warm and give me comfort when I need it. The fun part is that some of those pairs still have my patch work on them, so they're a true testament to how hard he was on his jeans and how much I cared to fix them for him. This little patch on the bottom was nancy's idea: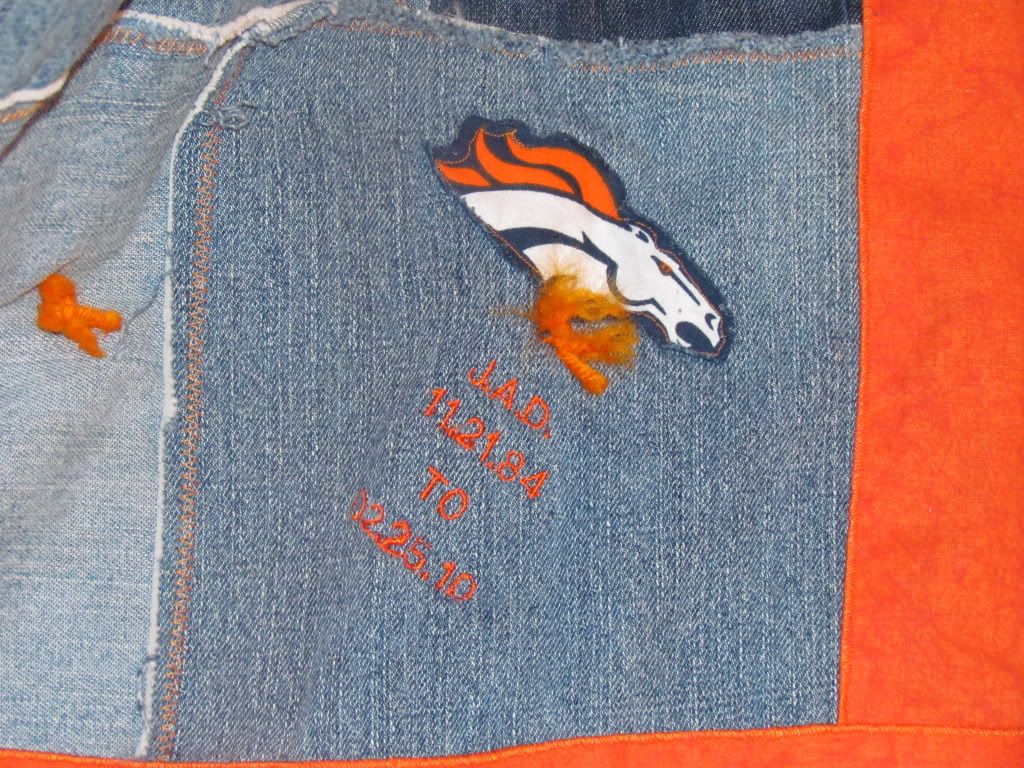 And she surprised me with this little addition, too: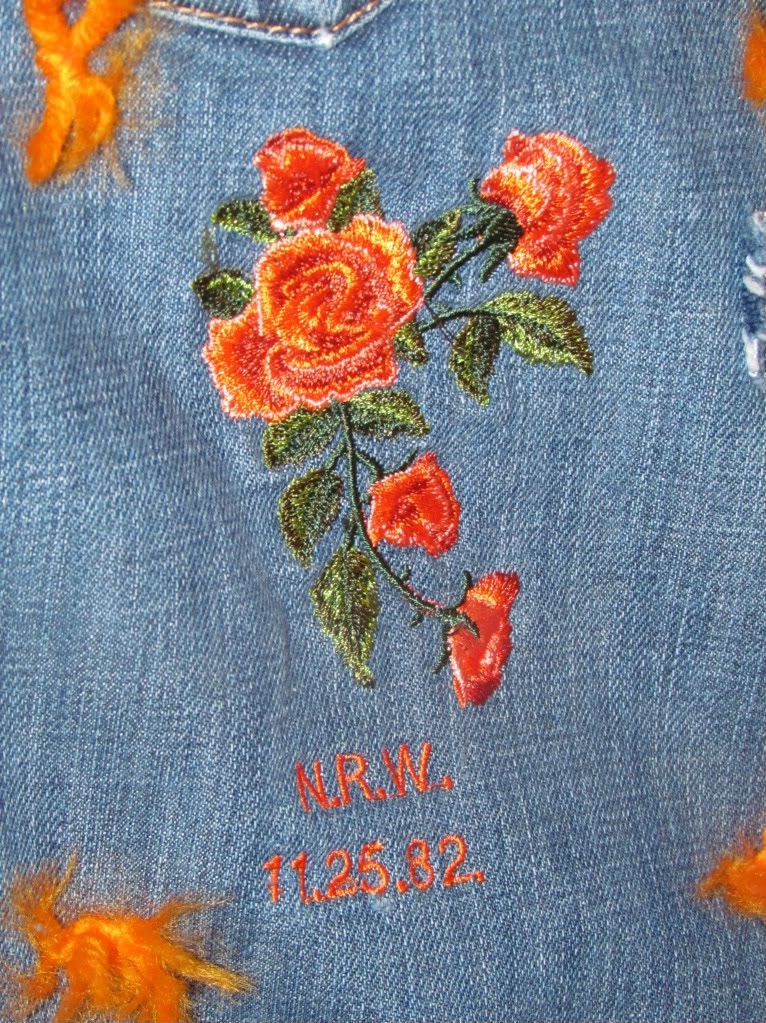 If you look just to the right of these roses in the first photo, you can see where she took the loop of his carpenter jeans and attached it to the leg of my old favorite pair of jeans. So sweet! And look, she made me a pillow, too!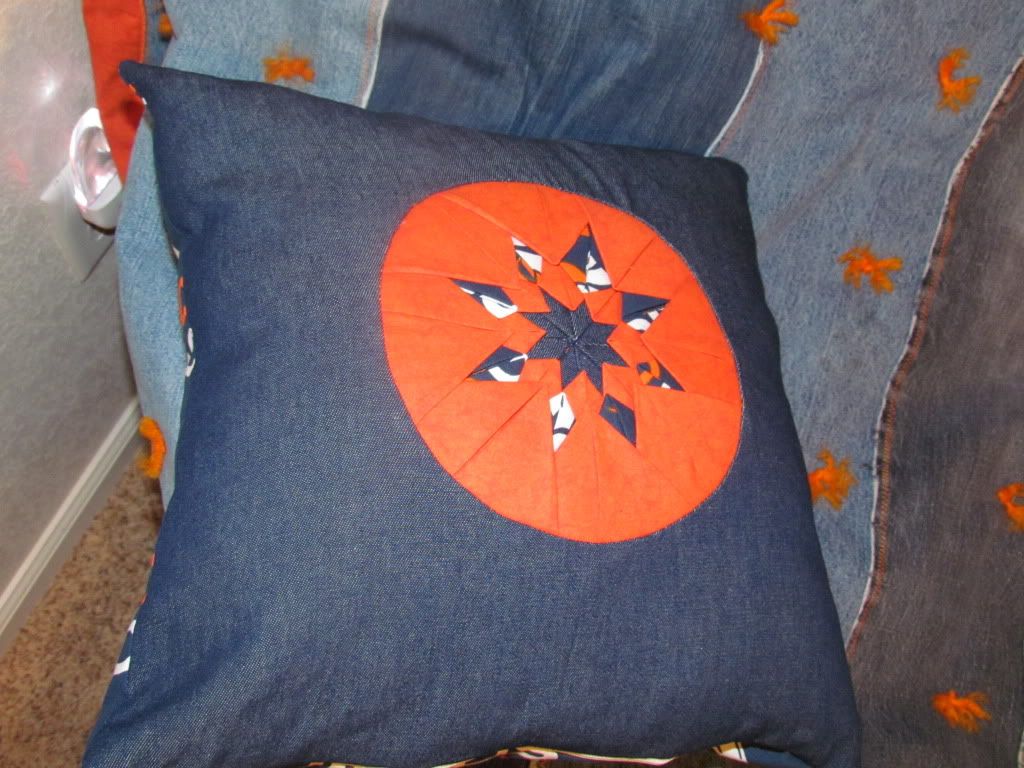 I just love that orange fabric! And the quilt is useful, too, in that I can keep stitching supplies in the pockets so they don't fall off my lap while I work. Genius!
I added my own touches to this as well. I did the whip stitching that attached the orange edging to the denim (that took FOREVER!) and I helped tie it with the orange yarn. Overall, I'm so pleased to have this! It makes me feel good to have something that will keep me warm like he always did. :)